June 19, 2016
England vs Slovakia Euro 2016 preview: Martin Skrtel not afraid to kick club team-mate Daniel Sturridge
Martin Skrtel knows some of the men in this England squad better than Roy Hodgson. He has been training with Adam Lallana, Jordan Henderson, Nathaniel Clyne and Daniel Sturridge for most of last season. The year before the Liverpool centre-half was training with Raheem Sterling.
A defender's greatest asset is anticipation. It was what made Paolo Maldini great. Perhaps had Ashley Williams played with Sturridge, he might just have known where he would be and what he might do and the last-minute goal against Wales that rejuvenated England's campaign might have been prevented. Perhaps.
Asked if he would kick Sturridge on Monday night if it meant Slovakia going through to the knockout stages of the European Championship, Skrtel smiled and said yes. "Obviously, I would. We will be friends before and after the game but not during it and, if you asked the same question to Daniel, he would say the same."
Skrtel's finest season at Anfield, in which he played in every minute of every Premier League game was also one of Liverpool's worst. It was the one in which Hodgson, appointed to succeed Rafa Benitez, lasted a little over four months.
"The time he spent at Liverpool was not successful for us a team," said Skrtel of Hodgson. "But me, personally, I rate him highly because, in my eyes, he's a quality manager. I never had any kind of problem with him.
"It was his experience and quality that made him a national team manager and he's done great work with them. They won all the games in the qualifiers and have done well so far in the Euros. That's the best answer."
However, Skrtel's last season at Anfield was so wretched that he is unlikely to be team-mates with Sturridge and Co for much longer. He never quite recovered from a mauling Liverpool received at Watford in December, which counted as one of their very worst displays under Jürgen Klopp.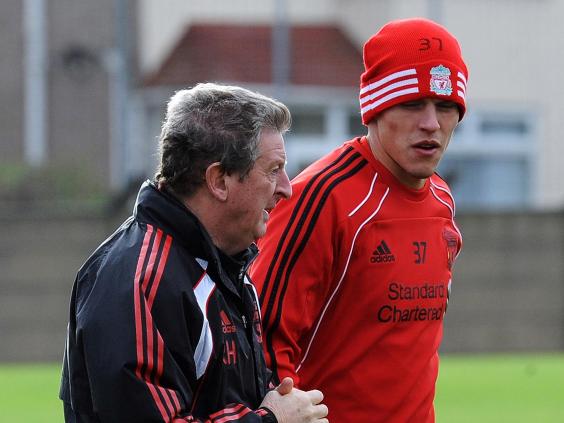 Skrtel did not play another game for Klopp for three months and, when he did, it was in a disastrous match at Southampton when Liverpool somehow contrived to toss away a two-goal lead in a 3-2 defeat. By the end of the season, Skrtel had lost his place to the 35-year-old Kolo Toure. The Ivorian was not offered a new contract by Klopp and it is unlikely Skrtel will be kept on. He has been linked with a move to Roma.
Asked if a good performance for Slovakia against England in St Etienne might help him stay at a club he joined from Zenit St Petersburg eight years ago, Skrtel thought it improbable. "I doubt it," he said. "I don't think one game will change your career. I don't think it will change that much but I will do my best.
"But for me it will be a very special game because I have been playing in England for such a long time. In the previous game, against Russia, we showed desire, fight and character for 90 minutes, even though we were under so much pressure at the end."
England and Slovakia both had leads to protect against the Russians. Slovakia had a two-goal lead in Lille which is double what England had to nurse in Marseilles. They came through and England did not.  "England dominated Russia and were a little bit unlucky to concede in the last minute," said Skrtel. "But it was very different against Wales when they scored in the last minute. I think they are one of the best teams in the world.
"I think we have to use the same weapons we employed against Russia if we are to go through. We have to have a fighting spirit and we have to play with our hearts. If we add some individual quality to that, we will be successful. We have to be better than them and it doesn't matter if it is Vardy, Kane or Sturridge, we have to control them."
<!–
Reuse article –>