April 6, 2016
DR Congo's Mbokani quits internationals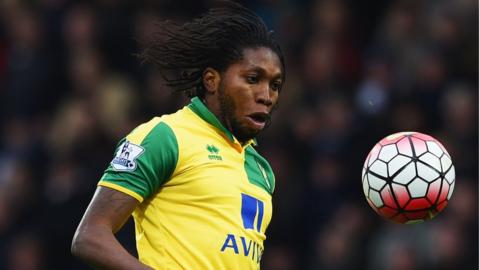 DR Congo and Norwich striker Dieumerci Mbokani has quit international football after his country's FA threatened to sanction him for missing two Africa Cup of Nations qualifiers.
Mbokani missed the games with Angola after being caught up in the Brussels airport attacks on his way to Kinshasa.
The 30-year-old is unhappy that Congolese FA president Constant Omari said he should still have travelled.
"I don't want to play for Congo. I find the treatment unfair," said Mbokani.
The attacks at the airport and a metro station on 22 March left 32 people dead.
The striker, on loan at Premier League side Norwich from Ukrainian champions Dynamo Kiev, added on Congolese radio: "I was at Brussels airport at the time of the attacks. Immediately after, I called the vice-president Theo Binamungu and he promised to call me.
"Since that day, no one called me. Not even a message of support and encouragement after what happened to me.
"Then I stayed in Brussels with my family that I almost lost in the attacks. I asked my team to give me a few days of rest, time for me to recover from the trauma.
"Someone from the Congolese Federation tried to make me travel to Kinshasa.
"I always have problems with the Federation. That's the reason why I decided to stop with the national team."
But Omari has questioned why Mbokani did not travel when his compatriot Cedric Bakambu, who was also at Brussels airport, did make it to Kinshasa.
He told French radio: "It's true there were problems at the airport, but Bakambu was on the same plane and had to leave Brussels.
"But he caught an alternate plane from Charleroi and did everything to come here (to Kinshasa). We called Mbokani and told him of the new arrangements being made but he turned us down."
Omari said Mbokani, as a senior member of the squad, should set an example to the rest of the team.
"Do you think we need him again for the national team? I'd prefer to lose but with disciplined players," he added.