September 27, 2016
CSKA Moscow vs Tottenham: Spurs hope to have Harry Kane back in time for Arsenal derby
Tottenham are hoping to welcome Harry Kane back for their north London derby against Arsenal on 6 November, after receiving a "very, very positive" scan of his ankle injury yesterday. Kane is one of five first teamers missing for this evening's Champions League game at CSKA Moscow, after damaging ankle ligaments on 18 September.
Kane was initially feared to be out for at least two months, beyond the November international break. But the news that the club received yesterday was "much, much better than expected", meaning that his absence will be shorter than thought. While Mauricio Pochettino was reluctant to put a time-frame on Kane's return, Tottenham hope he will be ready for the derby at the Emirates. That would be a total absence of seven weeks, rather than the feared eight or even 10. Kane will still miss the crucial October games against Manchester City, Bayer Leverkusen, Liverpool and Leicester City.
"We received the information about the scan and it is much, much better than we expected, and maybe we can reduce the time," Pochettino said at his press conference in Moscow on Tuesday night. "It was a very positive scan, and we are very happy. But we still cannot give a time-frame of how long it will take, it is difficult to say one, two or three weeks. But it is much better than we expected."
Danny Rose, Eric Dier, Mousa Dembele and Moussa Sissoko are also absent for this evening's game in Russia. Dier and Dembele, Spurs' first choice central midfield pairing, have both been left out as a precaution after minor muscle injuries picked up against Sunderland. Sissoko suffered concussion against Middlesbrough on Saturday so has been left behind. Dier, Rose and Sissoko all have a good chance of facing Manchester City on Sunday.
This means that Spurs will not be at full-strength for a must-win game at the brand-new Arena CSKA. The atmospheric stadium, which only opened this month, is likely to be nearly full for its first ever Champions League game. There are only expected to be 250 Tottenham fans. They have been advised by the club not to wear Spurs colours because of security risks. Victor Wanyama and Dele Alli are likely to continue in the middle of the pitch while Erik Lamela should come in on the right of midfield. It will be a very difficult test against a CSKA side with far more European experience than them.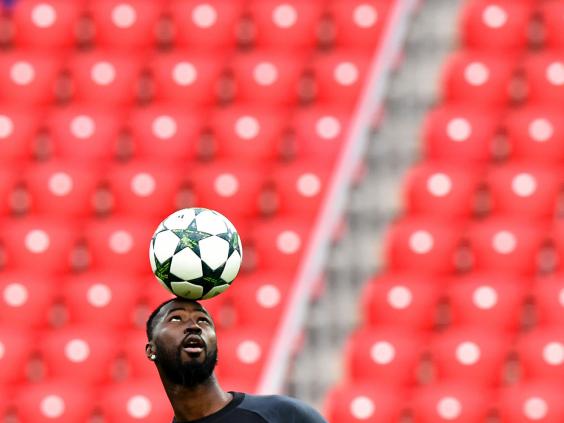 The 2-1 defeat to Monaco at Wembley prompted some of Pochettino's hardest ever criticisms of his players, saying that they needed to show "more passion", and to live up to the Champions League stage, rather than freezing on it. Pochettino demanded last night that his players show more this evening in a game that they have to win.
"We were all disappointed after the game," Pochettino said. "I was realistic. We need to improve. We must win. We know it will be a very tough game, but our minds are set on getting the three points."
For this much-changed Spurs team, shorn of their leaders Kane and Dembele, this is an important chance to set the record straight and to show that they can hold their own in the most difficult contexts. "We are young, but we are good enough to compete," Pochettino said. "This is a good opportunity to compete in a different way from Monaco at Wembley. I don't think that inexperience in this competition was the reason we lost the first game."
Toby Alderweireld has urged his Spurs team-mates to follow the path that took his Atletico Madrid team within seconds of the Champions League trophy back in 2014. That was an unfancied side drilled ferociously hard by their inspirational Argentinean coach, and now, at Tottenham, Alderweireld finds himself in a similar situation. While the managers have different philosophies, their work ethic is the same.
Simeone has instilled an unbreakable belief in Atletico over the years, a belief that has carried them to two European Cup finals, and two heart-breaking defeats. Aldweireld wants Spurs to follow them. "Every team can win the Champions League if you put your mind on it," Alderweireld said. "If you have a good squad and the hunger is there to win something, you can do it. At Atletico, the big teams like Barca, Real, Bayern were always the favourites."
But Atletico knocked Barcelona and Chelsea out on their way to the 2014 final, and then Barcelona and Bayern Munich on the way to this year's final. Reputations counted for nothing. "If you are a really good group, and of course we had quality too, you can win it," he said. "That's the thing that has stayed with me. If you are a good team and a good squad and your mind is thinking of winning, you have a chance. That's the thing that I have learned the most."
Alderweireld knows that this is a serious issue. Spurs froze in their Champions League opener against Monaco. Alderweireld, speaking like a future Spurs captain, told his team-mates they cannot make the same mistakes this time. "We want to do everything to win," he said. "That is the way we go into every game. We know there is a little bit more pressure because we lost the first home game. But we have to have confidence in our own game, and try to give everything on the pitch."
Spurs are already up against it after that bad result at Wembley. Alderweireld knows that a second defeat is unthinkable. "OK, we lost the first game, but we have to go through," he said. "We have to be confident in our game, confident in our quality and confident that we can get the result against any team. We don't have to look too far into the future, just look game-by-game, and try to go to the next round."
Teams: Tottenham: Lloris; Walker, Alderweireld, Vertonghen, Davies; Alli, Wanyama; Lamela, Eriksen, Son, Janssen 
CSKA: Akinfeev; Fernandes, Ignashevich, V. Berezutskiy, Shchennikov; Wernbloom, Golovin; Tosic, Eremenko, Ionov; Traore
Reuse content