April 6, 2016
Chris Smalling talks up playing alongside Daley Blind at Manchester United: 'He has put his critics to bed'
Manchester United's Chris Smalling has justifiably declared that Daley Blind, the Dutchman who has become his central defensive partner, has "put the critics to bed," having emerged as one of the most improbable successes of the club's season.
Blind's apparent lack of pace created scepticism when he was asked to take on a central role in a defence which required re-organisation after Luke Shaw's season came to a premature end last autum. His emasculation of Romelu Lukaku against Everton on Sunday underlined why Louis van Gaal has maintained trust in him.
Neither Blind nor Smalling  are entirely consistent defensively and though both display an ability to bring the ball out of defence – a pre-requisite for the modern-day centre half –  there are occasions when a greater defensive contrast would be more ideal: one as the linchpin, the other as the distributor. But United's defensive record – 27 conceded: better than every other side bar Tottenham Hotspur – does speak for itself and Smalling the two of them had developed an intuition.
"Ever since he joined the club he has rarely been injured. He has been able to bang out the games and have a very high consistency," he said. "As [an] obviously.. natural midfielder, he has that passing range and ability down to a tee. He brings a lot to our defensive line in being able to play the ball out and cut through teams. I think he deserves more plaudits. Everyone is standing up and taking note that Daley is one of the mainstays of this team and he is keeping us ticking.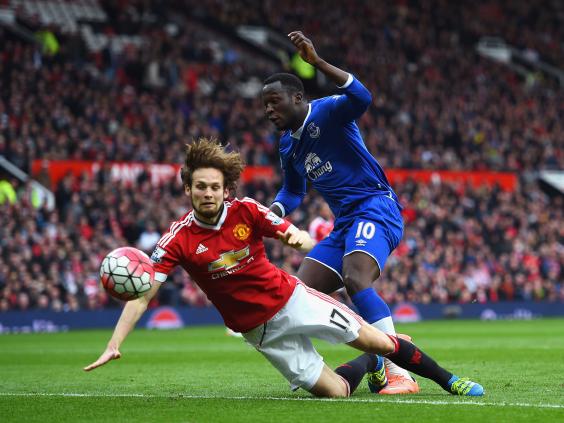 "One of the main reasons the manager first put him there was he could play on the ball and he was a left footer. He has got a lot more to his game than any of us really thought. In one on one duals for instance, as you saw against Everton, Lukaku didn't get any change from him. Daley is not the biggest or strongest but he is very clever and smart and big strikers or fast strikers don't get any change from him. When someone like Lukaku gets you in the position where he's holding you off it is key to try and nick it in front of him. He can pin you in the box but he didn't get anything out of Daley."
Manchester United 1 Everton 0 player ratings
1/22



MANCHESTER UNITED – David De Gea: 6 out of 10

Another clean sheet for him. Rarely called into action but was quick off his line in the first half to deny Lukaku a chance on goal.

2016 Getty Images

2/22



Matteo Darmian: 6 out of 10

Created a number of chances for United in the first half with his deliveries into the box but sat back as the game went on.

2016 Manchester United FC

3/22



Chris Smalling: 6 out of 10

Came out on top in his battle against Lukaku and looked comfortable under the pressure of the set-piece.

4/22



Daley Blind: 7 out of 10

Strong defensive performance both on the ground and in the air. Made a series of early important interceptions and challenges to deny Everton goal-scoring chances.

2016 Manchester United FC

5/22



Marcos Rojo: 5 out of 10

Substituted at half time despite enjoying a lively first half in which he pushed on well to give United more options out wide.

2016 Getty Images

6/22



Michael Carrick: 5 out of 10

Lasted up to the hour at which point he was replaced by Herrera. Struggling to find his form following his absence from the first team.

2016 Manchester United FC

7/22



Juan Mata: 6 out of 10

A quiet first half but he warmed up as the game went on. Pulled the strings in United's later attacks and created one of his side's best chances on goal.

2016 Manchester United FC

8/22



Jesse Lingard: 6 out of 10

One of few United players who created chances for his team. Got in the right positions and was dangerous in and around the box.

2016 Getty Images

9/22



Morgan Schneiderlin: 6 out of 10

Ran United's midfield well and sat comfortably just in front of the back four. Composed under pressure but the search for his first goal since October goes on.

2016 Manchester United FC

10/22



Antony Martial: 7 out of 10

The only player giving United any real movement throughout the entirety of the match. His hard-running paid off with a well taken goal in the second half.

2016 Getty Images

11/22



Marcus Rashford: 6 out 10

Showed flairs of genuine creativity at times, which bodes well for the future, but failed to truly influence the course of the game.

2016 Getty Images

12/22



EVERTON – Joel Robles: 5 out of 10

Wasn't really tested for much of the match and was slightly too risky with some of his decision-making. Will have felt he could have done better with United's goal.

2016 Manchester United FC

13/22



Seamus Coleman: 6 out of 10

Did well to get forward at times but left too much space in behind him when he did. Rocky start but settled into the game.

2016 Getty Images

14/22



John Stones: 6 out of 10

A more cautious and considered performance. Less hesitant on the ball and made a well-timed challenge on Martial in the first half to deny United an early goal.

2016 Getty Images

15/22



Phil Jagielka: 7 out 10

Led Everton from the back with a number of big tackles and strong defensive performance in the air. Also came closest to equalising with his headed attempt on goal that crashed off the bar.

2016 Getty Images

16/22



Leighton Baines: 6 out of 10

Average at best though his set-pieces were on point for the vast majority of the match.

2016 Manchester United FC

17/22



James McCarthy: 6 out of 10

Tracked back well to lend defensive cover when the back four was caught out by United's long balls over the top.

18/22



Ross Barkley: 5 out of 10

In too much of rush for most of the game. Forced passes that weren't on and was repeatedly caught in possession. Careless.

2016 Getty Images

19/22



Tom Cleverley: 5 out of 10

Will have been disappointed with his performance. Looked out of his depth at times and, like Barkley, was guilty of giving away possession in dangerous positions.

20/22



Gerard Deulofeu: 5 out of 10

A lively start from him in which he proved a handful for Darmian particularly in the first 20 minutes. Ended up losing interest though and was subbed off at the hour mark.

2016 Manchester United FC

21/22



Romelu Lukaku: 6 out of 10

Too isolated to impact the course of the game. Failed to link up with his team-mates at times but did manage to hold up the ball brilliantly when he got it.

2016 Getty Images

22/22



Aaron Lennon: 4 out of 10

Went missing for most of the match. Ineffective and far too quiet. Might as well have not been there.

2016 Manchester United FC
Everton's Leighton Baines offered a candid interpretation of Sunday's defeat, in which the side's work-rate dipped after a promising opening.
"You are only really secure as individuals when you are winning games but even then we will make changes from time to time with what is required tactically," he told the Liverpool Echo. "Results have an impact on that because chemistry and confidence go hand in hand, if you start winning games. Look at the teams who are having success this year and you'd say they have chemistry. If I had to say one thing, I just don't know if it's there with us at the moment, for whatever reason."