October 15, 2016
Chelsea vs Leicester: Antonio Conte can't get enough of N'Golo Kante as he labels midfielder 'the present and the future'
N'Golo Kante is Leicester City's past but he is Chelsea's future. The France midfielder will line up for his new team against his old one this afternoon, three months after giving up Champions League football to be part of Antonio Conte's new project at Stamford Bridge.
Chelsea are still finding their way this season, as Conte tries to impose his own "idea of football" on a squad which is used to something very different. It will take time and money to get there but there is no doubt that, whatever happens to anyone else, Kante will be part of it.
Conte spoke effusively at his Friday afternoon press conference about Kante and what he brings to the team. He even said that Kante's stand-out mistake, against Arsenal, was down to his "generosity", his good side. There can be no question that Kante is Conte's favourite midfielder, even as he joked that he "did not know" why Kante had left Champions League football at Leicester for rebuilding Chelsea.
"N'Golo is an important player for the present, and for the future of Chelsea," Conte said at Cobham. "We did a great buy to take him."
Conte has used a 4-1-4-1 and a 3-4-3 system so far this season, and Kante has shown that he can operate in a central midfield three, in the former, or in a two, in the latter. If, as suspected, Conte hopes his Chelsea team will one day be able to play 4-2-4 then Kante would be left in a two with huge distances to cover. But the little Parisian would be more than able to do that.
"N'Golo has fantastic stamina and covers a lot of ground," Conte said. "This is very important for the balance when you play offensive football, to have a player who recovers the ball back very well. N'Golo is this type of player, he's a very good player."
"He is a fantastic player who can play with three in midfield with two others, or in a two," Conte explained. "He played in a two with Leicester last season and was very important. At Hull [in a 3-4-3] he played with Nemanja Matic together. In previous games [in a 4-1-4-1] he played with Matic and Oscar or Cesc Fabregas. But I think he can play in both styles. Above all, he always plays very well."
While Kante has been one of Chelsea's stand-out performers so far this season, there was one big visible error in the defeat at Arsenal. Kante pushed up and left space for Mesut Özil to run past him, as Arsenal tore through Chelsea. Even that, for Conte, happened because of one of Kante's strengths, rather than weaknesses.
Chelsea vs Arsenal player ratings
1/22



Petr Cech – 6 out of 10

Enjoyed a surprisingly quiet evening against his former club, but stayed alert to save well late on from Batshuayi.

2/22



Hector Bellerin – 7 out of 10

Won the battle on the wing against his compatriot Azpilicueta, and added a fine assist to his clean sheet.

3/22



Shkodran Mustafi – 8 out of 10

Impressed as a physical force in the Arsenal defence, giving as good as he got from Costa – and better.

4/22



Laurent Koscielny – 7 out of 10

His partnership with Mustafi continued to blossom as he led the backline with authority.

5/22



Nacho Monreal – 7 out of 10

Quietly efficient as he kept Willian under wraps for long periods.

6/22



Francis Coquelin – 5 out of 10

Battled well early in the game, but had to be replaced after coming off worst in a fierce 50-50 challenge with Kante.

7/22



Santi Cazorla – 7 out of 10

Although he tired towards the end, the Spaniard dictated the midfield with his creative play.

8/22



Theo Walcott – 7 out of 10

Once again worked tirelessly for the team. The Walcott of this season is like a new signing for Arsenal.

9/22



Mesut Ozil – 8 out of 10

Given time and space to play by Chelsea, the German bossed events at the Emirates. His turn and run in the build-up to his goal was sublime.

10/22



Alex Iwobi – 8 out of 10

An excellent display that showcased the youngster as a real attacking threat. Demonstrated awareness of his teammates around him.

11/22



Alexis Sanchez – 8 out of 10

Scorer of a well-taken first, his assist for Ozil was just as good. Leading the line much better than last month.

12/22



Thibaut Courtois – 5 out of 10

Offered little protection by his defence, he still suffered a number of breakdowns in communication with the outfield players.

13/22



Branislav Ivanovic – 5 out of 10

Constantly troubled by Iwobi's energetics, time continues to catch up with Chelsea's experienced defender.

14/22



Gary Cahill – 4 out of 10

Directly responsible for some awful defending, most notably when he lost possession in the lead up to Arsenal's first.

15/22



David Luiz – 5 out of 10

His partnership with Cahill needs work – and a lot of it. However, he did show an ability to pick a pass when going forward.

16/22



Cesar Azpilicueta – 6 out of 10

Often outnumbered as Walcott and Bellerin doubled up, he had more joy when moved to right wing-back in the second half.

17/22



N'Golo Kante – 4 out of 10

An unrecognisable performance given last season's heroics. Second to many loose balls and showed an unwillingness to track back when out of possession.

18/22



Willian – 5 out of 10

Went close to netting with a shot wide in the first half, he was otherwise kept quiet by Monreal and was eventually subbed.

19/22



Cesc Fabregas – 6 out of 10

Booed constantly on his return to the Emirates, he remained calm and played some fine passes. Surprisingly subbed when clearly performing better than others.

20/22



Nemanja Matic – 5 out of 10

Struggled to deal with the attacking runs from deep of Ozil, Iwobi and Walcott.

21/22



Eden Hazard – 5 out of 10

Showed flashes of skill and creatively, but more often it was his inability to help out at the back that was highlighted.

22/22



Diego Costa – 6 out of 10

Offered no service by his teammates who simply didn't play to his strengths. Never stop battling for possession.
"In this situation Kante paid for his generosity," Conte explained. "He went up late to stop the opponent, and Özil turned and passed him. But he went. I prefer he made a mistake through generosity than another type of mistake. I prefer that he went, than to stay and wait."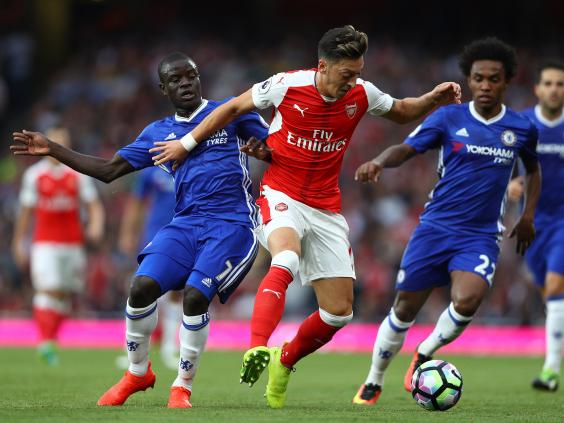 If Conte could choose, he might want more than one Kante in his midfield, to make sure that as much ground is covered as possible. "We have only one, I think it's enough," he said. "This type of player, who puts the team before himself, I like a lot. I like this type of player. I want this type of player." There will surely be more Kantes at Chelsea soon enough.
Reuse content