February 2, 2018
Bernardo Silva speaks out: Referees have to begin protecting Manchester City players from rough treatment
Alan Pardew conceded it was "a poor challenge… make no mistake about that."
Pep Guardiola wiped the metaphorical sweat from his brow and said "we were lucky."
The result of Matt Phillips' hip-high tackle on Brahim Diaz towards the end of Manchester City's romp over West Brom was simply a scratch for the Spaniard and a period of writhing on the turf but, as Guardiola pointed out, it could have been far worse.
"We could have been unlucky with what happened three or four days ago with Leroy [Sane]. The image can speak for itself. I repeat what I said after the previous game. It was not necessary."
Sane faces seven weeks out with ankle ligament damage sustained in the brutal encounter at Cardiff City. And Manchester City are understandably keen to avoid a repeat.
"I didn't know the tackle was like that, I've just seen it," said a shellshocked Kevin De Bruyne in the aftermath of James McClean's swipe at him, which got nowhere close to robbing him of possession.
"Let's just say the ball was not in the neighbourhood."
Fantasy Premier League 2017/18 Dream Team
1/11



David de Gea

Manchester United

Getty

2/11



Marcos Alonso

Chelsea

Getty

3/11



Antonio Valencia

Manchester United

Getty

4/11



Cesar Azpilicueta

Chelsea

Getty

5/11



Mohamed Salah

Liverpool

Getty

6/11



Raheem Sterling

Manchester City

Getty

7/11



Kevin De Bruyne

Manchester City

Getty

8/11



Riyad Mahrez

Leicester City

Getty

9/11



Christian Eriksen

Tottenham Hotspur

10/11



Harry Kane

Tottenham Hotspur

Getty

11/11



Sergio Aguero

Manchester City

Getty
And De Bruyne is keen for the Premier League's Neighbourhood Watch to get a little more involved.
"I don't know what they are thinking – you can also pull a shirt, that's more effective than a tackle.
"Sometimes it gets frustrating for us. A lot of teams are making a lot of fouls against us. We make a foul, we get a yellow card, I don't know how it's possible sometimes. I know sometimes there are tactical fouls but it's just the way it is."
Bernardo Silva was similarly angered by the rough treatment he and his teammates have had to put up with.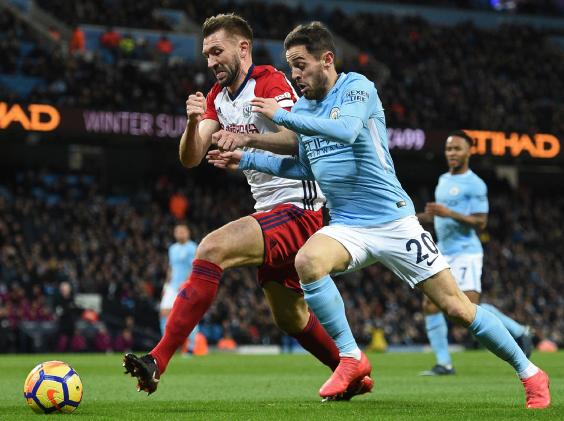 "The coach and everyone already spoke about that. It's clear that over the last few months, we've seen with Leroy it was a terrible accident and now he's injured for two months – a very important player.
"Today it could have been Brahim it could have been Kevin on the second goal. I think as the coach says, the referees have to do their job and if it's a red card they have to give the red card. They are not doing that over the last few months. We hope that soon they start protecting our players because the way other teams are tackling our players it's not part of the game, it's not fair play and they have to try to punish the players that play this way."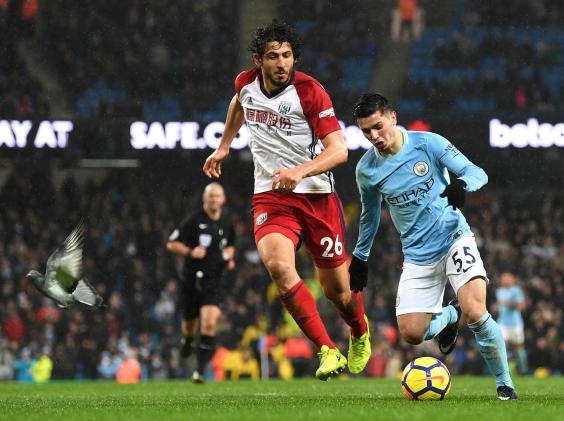 With those tackles resulting in injuries, as well as the usual strains and pulls accrued after a difficult festive schedule, City's squad is starting to be stretched.
But De Bruyne is willing to play through the fatigue in pursuit of an unprecedented quadruple.
"I'm a little bit tired but this part of the season there is not player who says they feel 100%. I think you feel. I think you feel 100% maybe five to 10 games in a season of 60 or 70. I think we have to cope with it, we have a lot of injuries so we just need to do it. If the manager gets a chance he will give me some rest but now we have a game at luncthime on Saturday and then a week of rest.
"We just need to do what we need to do. For the moment it's going fine."
Reuse content