March 16, 2016
Barcelona v Arsenal (agg 2-0)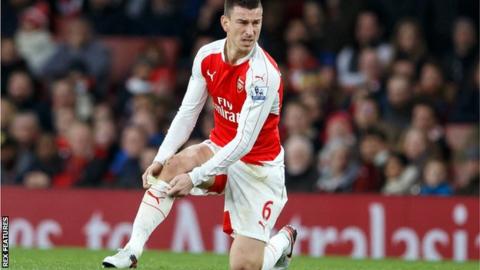 How to follow
BBC coverage:

Text commentary on BBC Sport website, listen on BBC Radio 5 live
Defender Laurent Koscielny returns from injury as Arsenal attempt to overturn a two-goal deficit against Barcelona in the second leg of their Champions League last-16 tie.
The Gunners trail 2-0 from the first leg and must score twice at the Nou Camp to have any chance of progressing.
"We don't have to calculate too much – we know we have to attack and score," said Arsenal boss Arsene Wenger.
"The players are united to give a strong performance."
The tie was finely balanced for most of the first leg at Emirates Stadium, but two Lionel Messi goals in the final 20 minutes put the Spanish champions firmly in control.
"We have won everywhere in Europe but not here yet," added Wenger, whose side have been knocked out of the FA Cup and slipped 11 points behind Premier League leaders Leicester since the first leg.
"Our approach was not bad in the first leg but we lost our balance and got caught.
"It will be a big boost for the rest of the season if we have a great game on Wednesday.
"We fight to win trophies and at the moment we are not favourites to deliver that this season.
"But no matter how big the challenge is, the Premier League is quite open despite what people think and in the Champions League we have a very small chance to give our best."
'We must remain calm and strong'
Wenger has come in for renewed criticism in recent weeks as Arsenal's pursuit of trophies domestically and in Europe has suffered a series of setbacks.
But the Frenchman, 66, remains as dedicated as ever to bringing success to the club.
"I am even more motivated than the day I arrived," he said.
"When you are a long time somewhere, people always question you. I don't question my dedication, it is 100%. I give more time to my club now than when I arrived.
"We have gone through a disappointing spell and it is important to remain calm and strong."
'Wenger is a chosen one'
Barcelona boss Luis Enrique, whose side are eight points clear at the top of La Liga and aiming to become the first team to retain the Champions League trophy since the old European Cup was rebranded in 1992, had supportive words for his Arsenal counterpart.
Asked if he could imagine replicating Wenger's 20-year stay at one club, he said: "In the modern era, it is impossible.
"It is not the case now with any coach. It means Wenger is a very good coach. No one doubts that and only the chosen ones can be such a long time in one club – it is because of their good quality.
"I really don't have a deep knowledge to assess the situation of Mr Wenger but every time there are more coaches out there and more competition and possibilities. That is why it is difficult to be 20 years in the same position, and that is why he has done a good job and is at a good level."
'Arsenal are dangerous'
Barcelona are on a 37-game unbeaten run and are strong favourites to reach the quarter-finals, but Enrique is determined his team will not take anything for granted.
"We want to be better than Arsenal on Wednesday," he said. "If we can, that is perfect and we will continue in the competition.
"There will be no change in our approach. Maybe it is a question for Mr Wenger, if his approach changes.
"It is obvious that the first leg has an impact on the second match – the result we got was very good – but it is not going to change our approach, training or preparation.
"The opponent is dangerous and we need to play very well to get to the next round."
Barcelona's attacking trio of Messi, Luis Suarez and Neymar are all fit and expected to start.