September 28, 2016
Arsenal vs Basel: Granit Xhaka's parents are hoping the Gunners lose their Champions League tie with Basel
Granit Xhaka's parents will be hoping their son's new club Arsenal lose their Champions League clash against Basel on Wednesday night, according to his brother Taulant.
Taulant is a defender for the Swiss club and will likely line up against his younger brother as he did during the European Championships when the 25-year-old's Albania took on the Granit's Switzerland.  
Granit came out on top in that encounter with Switzerland running out 1-0 winners in front of their parents, Elmaze and Ragip.
However, Taulant said their parents will be hoping for a different outcome at the Emirates and that they will be supporting Basel "for their heart" after settling there once they left Kosovo.
He also revealed how his biggest worry when the pair faced off in Euro 2016 was that he may injure Granit, his junior by 18 months, but insisted he quickly focused on his own game.
"I was a bit afraid to start with as I didn't want to injure him," he told the Telegraph.
"As the game went on you relax and focus just on the game. To play against Arsenal in the Champions League is a childhood dream.
"It will be special. We both go into it with the same thoughts; that we need to win and give everything."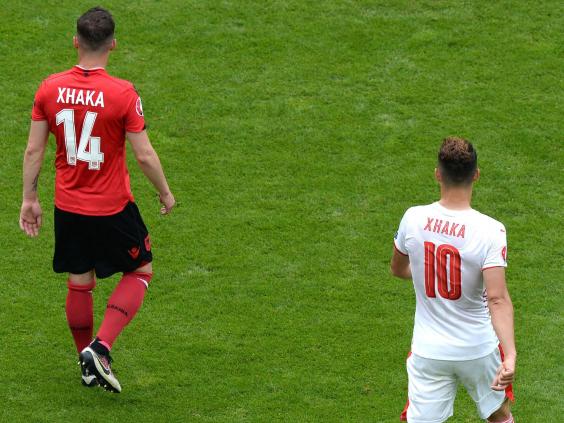 While Taulant says he was always physically stronger than his brother, he now concede's Granit's range of passing stands him out as the better player but hopes the pair will be reunited at club level towards the end of their careers.
"We speak every day, but before a game sometimes not because we have to focus," he added.
"We won't tell each other how the teams play – we are professional. I hope that after the game we can meet quickly. I need to ask the coach, so hopefully we win and he's in a good mood.
"I don't think I'm in Granit's shadow – it's not a thing for me.
"I think I have shown through my performances for Basel in the Champions League that I'm a good player.
"Of course it will be a wish for me that we played together in the same team. I think it could be a wish for him to come back when he has finished his career."
Reuse content