October 6, 2016
Arsenal news: Mesut Özil and Alexis Sanchez demand £250,000-a-week contracts because of Brexit
Arsenal may have cost themselves more than £36m in failing to tie down Mesut Özil and Alexis Sanchez to new contracts last summer as the pair are now reported to be demanding £250,000-a-week to extend their stints at the Emirates Stadium, partly due to the Brexit vote.
Both Özil and Sanchez are out of contract in 2018 and the club have already identified the pair as priority targets for new long-term contracts that will run until 2020. With Santi Cazorla also nearing the end of his contract – which expires at the end of the season – Arsenal's board have a fair bit of negotiating on the horizon, but they have been hit with a setback in talks with Özil and Sanchez.
According to The Times, Arsenal will reopen contract talks once the pair return from the current international break, but their demands of £250,000-a-week stand at £70,000 more than what was discussed last year.
It is no secret that Özil and Sanchez are Arsenal's two most valuable players both on and off the field, with their form this season helping to lift the Gunners into Premier League title contention as they sit in third place, two points off leaders Manchester City.
The new wage demands may come as a shock for the Arsenal hierarchy, but as The Times goes on to explain, there are three crucial factors in play that is behind the hefty demands. Two reasons could – and should – have been expected by Arsenal, with the time left on their deals reducing towards the feared one-year mark where the prospect of a free transfer begins to loom, and also the rate of inflation in wages across the Premier League due to the new television broadcast deal that came into effect at the start of the season.
Arsene Wenger's best moments as Arsenal manager
1/10



1996 – Becomes Arsenal Manager

Wenger leaves Japanese side Grampus Eight to become the Arsenal Manager.

2/10



1998 – Wins League and FA Cup double

Arsenal win the league setting a new club record of 10 consecutive wins and also secure FA Cup glory beating Newcastle 2-0 in the final.

3/10



1999 – Signs Thierry Henry from Juventus

Arsenal signed Thierry Henry from Serie A side Juventus for £11 million. Henry went on to become the club's all-time top goalscorer with 228 goals in 377 appearances.

4/10



2002 – Second League and FA Cup double

The Frenchman wins his second double with Arsenal tipping Manchester United and Liverpool to top spot in the league and defeating Chelsea 2-0 in the FA Cup final.

5/10



2003 – OBE from the Queen and FA Cup victory

Wenger's men beat Southampton 1-0 at Cardiff's Millennium Stadium and in the same year he given an honouree OBE by the Queen.

6/10



2004 – The 'Invincibles'

In 2004, Arsenal were at the peak of their powers under Wenger. His philosophy of possession-based free-flowing football, combined with the talent of players such as Henry and Dennis Bergkamp, led Wenger's men to the league title and an unbeaten 49 game streak.

7/10



2005 – FA Cup victory against Manchester United

Arsenal beat Sir Alex Ferguson's Manchester United 5-4 on penalties for Wenger's fourth FA Cup trophy.

8/10



2006 – Champions League final v Barcelona

Wenger's team came the closest they have ever been to European glory, narrowly losing 2-1 to Barcelona, after going a goal up through Sol Campbell in the first-half.

9/10



2014 – FA Cup victory against Hull City

Having not won a piece of silverware in nine years, the pressure was certainly on for Wenger as Arsenal took on Hull City at Wembley. It only got worse for Wenger as Hull took a 2-0 lead in the opening 10 minutes. However, his team managed to fight their way back into the game and sealed victory with a dramatic 3-2 comeback in extra-time.

10/10



2015 – FA Cup winners against Aston Villa

After the drama of the previous year's final against Hull, Wenger's side cruised to a 4-0 victory over Aston Villa in front of a packed Wembley crowd.
The third reason though will not have been expected by the club, with June's Brexit vote resulting in a large decline in the value of the pound. When talks originally began last October, the pound was valued at €1.38, while its post-Brexit vote value has reduced to €1.13.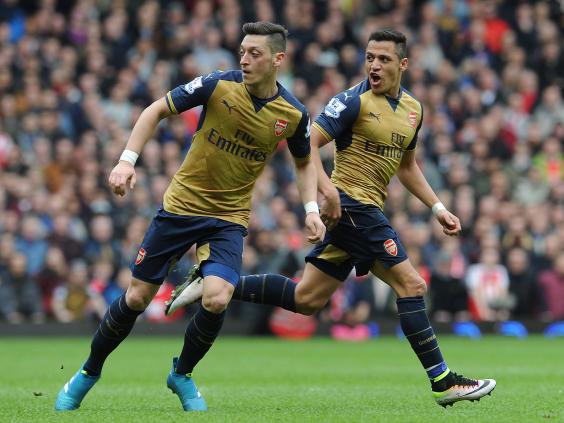 The change in currency valuation could have serious ramifications for all Premier League clubs signing players from abroad, with those holding large assets and families abroad set to ask for higher wages.
27-year-old Özil is already the clubs highest paid player among the Arsenal squad with his £140,000-a-week wages £10,000 more than 27-year-old Sanchez's. The next in line is England international Theo Walcott on £120,000-a-week, but should Özil and Sanchez secure their desired salaries, it will create a huge gulf in the club's wage structure.
Only manager Arsene Wenger earns more than Özil with his current weekly salary of £160,000 more than any player on the books at the club. However, neither Özil nor Sanchez come close to matching the league's highest earners, with Manchester United and England captain Wayne Rooney remaining the highest paid player on £260,000-a-week and Manchester City striker Sergio Aguero just £20,000 shy of that figure.
It's believed that Özil is the more likely to sign a new deal first given he is happy in London and also pleased with the development witnessed at Arsenal since he arrived in 2013. Since Wenger signed the Germany international in a club record £42.5m deal with Real Madrid, the Gunners have won two FA Cups and finished fourth, third and second, with fans hopeful of a genuine Premier League title assault this season.
And while Sanchez endured several run-ins with Wenger last season, he has cut a much happier figure in the 2016/17 campaign, having been given the chance to shine as Arsenal's lead striker in place of Olivier Giroud.
Reuse content