April 28, 2016
Arsenal news: Diego Simeone is the 'obvious choice' to replace Arsene Wenger, says Ray Parlour
Former Arsenal midfielder Ray Parlour believes Diego Simeone is the "obvious choice" to replace Arsene Wenger as manager because it is "too early" for a club legend such as Patrick Vieira or Thierry Henry to take the job.
Wenger's future has once again been thrown into doubt following Arsenal's collapse this season. With rivals Chelsea and Manchester United enduring a poor season in the Premier League, Arsenal were handed their best chance of ending a 12-year title drought and appeared well position at Christmas to challenge for top honours.
But a dreadful run of two victories in nine matches saw the Gunners fall out of title contention as well as suffer elimination in the Champions League and FA Cup to Barcelona and Watford respectively, and their form has continued to wobble in the season run-in that is threatening a 20th-consecutive top-four finish, with United now just five points behind with a game in hand.
Failure to qualify for the Champions League would make Wenger's position at the club extremely fragile given pre-season expectations of winning the title, and despite his 19-year reign at the club elevating him to legendary status, even he would find it difficult to remain manager after such a failure.
Parlour, who won three Premier League titles and four FA Cups under Wenger's stewardship, believes that the current Atletico Madrid head coach would be the leading contender to replace Wenger should he leave this summer, although he did admit that fans would have to accept a slightly less attractive style of play that could prove to be more successful.
"The obvious choice would be probably Simeone but it would probably go back to a bit more of a negative style of play," Parlour told Talksport.
Seven who could join Arsenal and and seven who could leave
1/14



INS: Zlatan Ibrahimovic (Paris Saint-Germain)

Age: 34

Expected fee: Free agent


The Swedish striker is out of contract in the summer and will be the top target for a number of clubs in Europe, North America and China. The PSG talisman, scorer of 141 goals in 168 matches for the French club in four seasons, has aged well and just led the club to their fourth Ligue 1 title in a row – the 12th of his career. Would offer Arsenal a genuinely world class striker for the first time since Thierry Henry left the club.


2/14



Toni Kroos (Real Madrid)

Age: 26

Expected fee: £45m


The German playmaker has seemingly slipped out of favour at Real Madrid, where Zinedine Zidane and president Florentino Perez are said to be plotting a revolution of playing staff. Kroos is another who will wanted by nearly every major club this summer, and there have already been hints that he wants to play for Pep Guardiola at Manchester City.

2016 Getty Images

3/14



Pierre-Emerick Aubameyang (Borussia Dortmund)

Age: 26

Expected fee: £60m


The hottest striker in Europe has an astounding 32 goals in 36 matches for Dortmund this season and plays in a style that would appear perfect for Arsenal. However, the former AC Milan man is wanted by Real Madrid and has previously mentioned that he'd like to play in Spain.


4/14



Victor Wanyama (Southampton)

Age: 24

Expected fee: £25m


Arsenal have been linked with the powerful Kenyan for years but never seem to take the plunge. Francis Coquelin was brilliant in the first half of the season, but the Gunners' lack of options in central midfield was brutally exposed when he went down with an injury. Wanyama alongside Coquelin would give the Gunners a powerful midfield platform on which to build.


2016 Getty Images

5/14



Alvaro Morata (Juventus)

Age: 23

Expected fee: £40m


The Spanish striker has not found much consistency at Juventus, but has showed, especially in the Champions League this season and last, that he is capable of operating at an elite level. He only has 10 goals this season but the potential to be a truly brilliant lone striker is there for all to see. Has also expressed a desire to play in the Premier League.

2016 Getty Images

6/14



John Stones (Everton)

Age: 21

Expected fee: £40m


The early season hype around the Englishman has fallen out considerably. Stones started the season as one of the division's most assured defenders but an awful winter has seen him lose his place in a defensively suspect Everton side. Some critics see him as all style and little substance. But he is still very young and that comfort on the ball would be ideal in north London.


2016 The Arsenal Football Club Plc

7/14



Mario Gotze (Bayern Munich)

Age: 23

Expected fee: £35m


Once hailed as the next big thing, Gotze must be regretting the day he ever left Dortmund for Bayern Munich. The German attacking midfielder has made just eight appearances and one goal in the Bundesliga this season. Liverpool are also linked with the World Cup winner.

2016 Getty Images

8/14



OUTS: Alex Oxlade-Chamberlain

Age: 22

Position: midfielder


For all his promise, Oxlade-Chamberlain is yet to deliver for Arsenal with any consistency, never playing more than 25 Premier League games in any of his five years at the club. He has just nine Premier League starts this season, in another campaign lost to niggling injuries. Chelsea and a return to boyhood club Southampton have been mentioned.


9/14



Kieran Gibbs

Age: 26

Position: left-back


Gibbs is not a good defender, too often caught far up the pitch and out of position. He lost his starting place to Nacho Monreal – a solid if unspectacular player – at the start of the season and has failed to win it back, starting only three Premier League matches this term.


2016 The Arsenal Football Club Plc

10/14



Mikel Arteta

Age: 33

Position: Defensive midfield


Seemed a year past his sell-by date last summer but the ever-loyal Arsene Wenger inexplicably opted to extend the veteran Spaniard for one more year. Zero Premier League starts tells its own story while his cameo at The Hawthorns will go down as one of the worst by any player this season.


2016 The Arsenal Football Club Plc

11/14



Mathieu Flamini

Age: 32

Position: midfield


Another player out of contract in the summer, Flamini is clearly not good enough for a title challenging, Champions League club, but has had to play important minutes in massive games. Wenger needs to move on from a player who has served him well but is no longer of any use at this level.


2016 The Arsenal Football Club Plc

12/14



Tomas Rosicky

Age: 35

Position: Attacking midfield


A case of what might have been for a supremely talented player, Rosicky's 10 years at the club have brought an average of just 25 matches in all competitions – Arsenal typically play 60. Always injured and without a single minute of football this season, the ageing player is just taking up a squad place that could be filled with an able body at this point.


2016 The Arsenal Football Club Plc

13/14



Mathieu Debuchy

Age: 30

Position: right-back


Another whose injury ruined any chance of a decent career in north London, Debuchy was excellent for the Gunners before that shoulder injury last season kept him out for months. In the few appearances he has made since returning he has shown he's nowhere close to good enough, while Hector Bellerin's rise has been unexpected and welcome. Has to be sold.


2015 The Arsenal Football Club Plc

14/14



Yaya Sanogo

Age: 23

Position: striker


Never ever looked good enough for Arsenal. Looked lost at Crystal Palace. Couldn't get into the Ajax team. Couldn't even get into the Ajax B team. How do Arsenal end up with these players?


2015 Getty Images
"It gets results don't get me wrong, but whether the Arsenal fans would want that…
"Who else is there? Would Ronald Koeman from Southampton (be the one)?
"I'm sure Southampton fans out there will be saying 'Well no we want to keep Ronald Koeman' and understandably so. A manager of that calibre can attract players."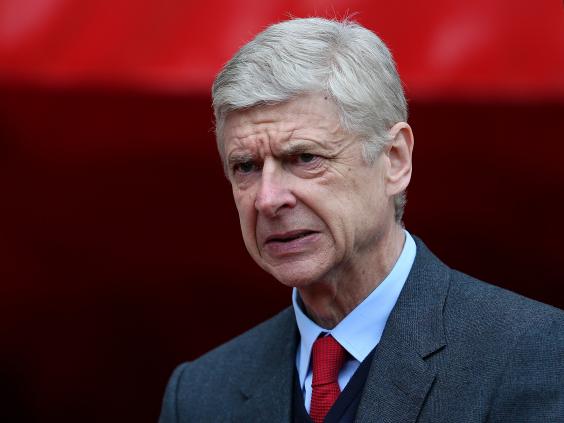 Two former Arsenal greats who have been tipped with a future role at the club are Vieira and Henry, but with the latter not holding any managerial experience and the former currently tied down to Manchester City's franchise – having taken charge of New York City FC after a spell with City's academy – neither is likely to succeed Wenger.
"I'd love to see one of (Arsenal's) own, but I think it's probably a bit too early yet, someone like (Thierry) Henry or (Patrick) Vieira," Parlour added.
"Vieira's at Manchester City so that makes that a bit awkward, so I don't know, I really don't know, that's the big question that the board has got to make a decision on."
Wenger still has one year left to run on his contract, though he has admitted himself that although the club expressed an interest in extending his deal earlier in the season he is not yet ready to think about his future beyond the 2016/17 season.