March 5, 2017
Antonio Conte's faith in Victor Moses has transformed him into one of Chelsea's most influential players
Back before the season began and Chelsea were still having difficulty bringing in the players Antonio Conte specifically wanted, the Italian was looking around his squad, and began to wonder why Victor Moses had previously endured such difficulties at the club.
Moses had been on three fairly unconvincing loans in four years, the most recent of them being at the West Ham United side the league leaders face on Monday at the Olympic Stadium. Conte spotted something in the 25-year-old straight away, told him he intended to keep him, but also that he had to prove himself.
Moses has done more than that, with the Chelsea manager on Friday describing him as a "complete" and "great" player. The story of how the refashioned wing-back got there, and how his manager specifically worked him on one key aspect of his game, may well be the key to the story of this season. It could also highlight the most potent weapon in the Premier League right now.
Chelsea potential summer 2017 transfers
1/9



IN: James Rodriguez

With Oscar departing for China, James Rodriguez could be the perfect long-term replacement for the Brazilian. Rodriguez hasn't had much game time this season and might be looking for a move away from the Bernabeu. It looks like Chelsea will tussle with the likes of Manchester United to secure his signature.

AFP/Getty Images

2/9



IN: Ricardo Rodriguez

The 24-year-old Swiss international could be the perfect fit in Antonio Conte's 3-4-3 formation. The Wolfsburg player is a massive threat from dead ball situations and loves to attack. Recent reports are suggesting that the Blues have beaten Arsenal to secure his services.

AFP/Getty Images

3/9



IN: Arturo Vidal

Conte is reportedly looking to bring his former employee to Stamford Bridge in a deal that could be worth up to £38 million. Bayern's box-to-box midfielder played under the Italian tactician at Juventus where they reached the Champions League final, losing 3-1 to Barcelona.

Bongarts/Getty Images

4/9



IN: Federico Bernardeschi

Fiorentina winger Bernardeschi has been on sparkling form for the Viola this campaign. Conte took him to the Euros in the summer and he could provide solid competition for Victor Moses for the right-wing starting berth.

Getty Images

5/9



IN: Tiemoue Bakayoko

Monaco have been free-scoring this season but their whole team deserves credit. Bakayoko has been a mainstay in the defensive-midfield position, and his combative style has drawn comparisons to N'Golo Kante. Chelsea would have to dig deep to make this deal materialise, though.

AFP/Getty Images

6/9



IN: Franck Kessie

The 19-year-old has been the breakthrough star in Serie A this season. In an Atalanta side that has performed above expectations this campaign, Kessie has played an integral role. A lot of Europe's elite are in pursuit of the Ivorian.

Getty Images

7/9



IN: Faouzi Ghoulam

After bringing Marcos Alonso in from Fiorentina last summer summer, Conte may want to provide some competition for the Spaniard and Ghoulam may well be the answer.

Getty Images

8/9



OUT: Michy Batshuayi

With Diego Costa performing so well, it is hard to see where the young Belgian fits in to Conte's setup. French side Lille were left rebuffed after they reportedly lodged a loan bid which was rejected by the Blues, but it remains to be seen whether they will keep him at Stamford Bridge.

AFP/Getty Images

9/9



OUT: Branislav Ivanovic

After starting the first six games of the season, the Serbian defender has struggled to fight his way back into the Chelsea team. After a change of formation from Conte, it seems as though he might not suit the Italian's style. Reports have also proposed that Barcelona may be in line for a shock swoop.

AFP/Getty Images
Because, in a modern competition where there is so much money and consequently so many big-name managers, one of the most significant differences has been something that really brings all that together: how much these supposedly super-coaches can actually get out of their existing players, what kind of impact they can have to improve their squad on the training ground. That has arguably become more important than anything, given how level the playing field has become in the transfer market, and has raised a lot of debate about the exact influence of the individual managers.
Would one of the new breed, for example, have done better with Arsene Wenger's players? Has Pep Guardiola's sophisticated approach really had the effect so far that many might have expected? Is Manchester United's recent improvement borne of how much money they've spent or how much Jose Mourinho has drilled his players, especially his defenders?
There can be no such debate with Conte, though. His impact on the training ground is clear. You only have to look at Moses. The wing-back played 21 games for West Ham last season, having eventually fallen away after a decent start, but now faces them on Monday at the Olympic Stadium as one of the most influential and best-performing players in this title surge.
It has naturally led to a new contract for Moses, and a lot of questions for Conte as to how he did it.
"I realised it quickly, that Victor could stay with us," the Chelsea manager explained. "I remember during pre-season, when we stayed in America [for pre-season], I spoke with him and told him: 'Victor, you will stay with us.' I'm happy to have this type of player. But I saw his potential quickly. I knew [of] him, but to see him live is very important to judge a player. I repeat: he deserved to stay with us this season, and also now he's deserving to play in the line-up.
"For Victor, he was very, very happy when he listened to my words. To tell me: 'I'm ready to stay here and fight for you, for the club. I need to have my chance and show I deserve to play with this team, with Chelsea.' It happened, this, and we are very happy about this. He's shown himself to be a great player."
That perhaps was one big element missing, that show of faith. Mourinho, after all, that pretty much decided he couldn't do much with Moses from the off. Conte was willing to wait, to see what he could do with him, as is the Italian's general policy. He gives players that chance, looks to work with them to see if they'll work in the way he wants.
The real change, however, came when Conte decided to alter the formation after the 3-1 defeat to Arsenal. That's when Moses went from a winger the Chelsea manager could use to a wing-back he had fashioned into a proper Premier League force. Conte rigorously schooled him in the defensive side of the game.
"If you ask me if I imagined him in this new position, not before," the Italian outlined. "No. Not before. We started 4-2-4 and I always saw him as a winger, very good in one versus one, but a bit poor defensively. Then, when I decided to change the system, I wanted to try him in this new role and to work with him on defensive situations. He showed me great commitment to understand, to study the new role, above all in defensive situations. Now we have a complete player, offensively and defensively."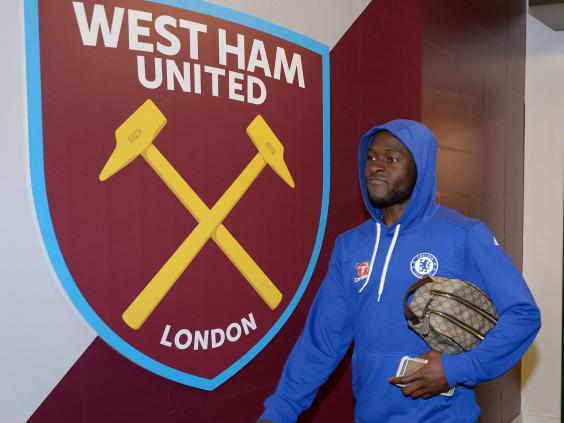 Conte naturally deflected questions as to why other managers had not seen that potential.
"It's always difficult replying to this question. Every year is different. Also, I saw in the past that Victor had injuries in the season. Different times. When that happens, and a player is injured, it's not easy to have a correct evaluation of the player. But, this season, I think we are good and also we have been lucky to prepare him in a good way. He's always available, up to now. I hope after my words that situation doesn't change."
Moses' entire football future seems to have changed, especially with his new contract, and his new status.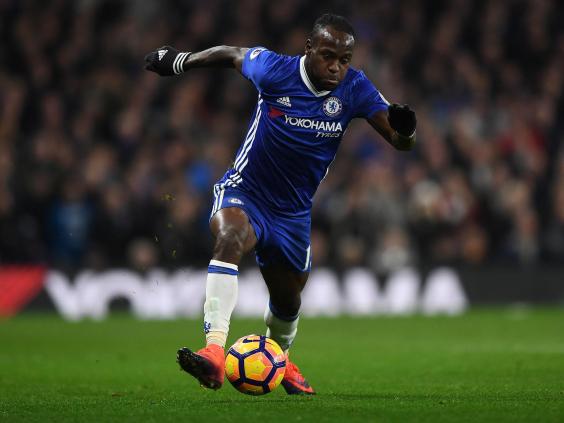 "First of all, it's right to say that Moses deserved a new contract," Conte said. "He's a really good guy, a good player with a great technique, great desire to fight. I think he deserved this. When I saw him during the pre-season, I was very clear with him: 'You stay here for the whole season, and I hope you are happy with this.'
"He said he was very happy to stay and try and prove himself, that he was ready to play for Chelsea. I'm pleased for him. But, I repeat, he deserves this. Nobody has just gifted him something."
Conte has brought out his gifts.
Reuse content