May 17, 2018
Antoine Griezmann ignores Barcelona transfer talk after leading Atletico Madrid to Europa League triumph
Antoine Griezmann dismissed questions about his future after playing a leading role in Atletico Madrid's Europa League triumph on Wednesday night in Lyon.
Griezmann scored twice in the 3-0 over Marseille as Atletico overpowered their opponents to win their second Europa League and sixth major trophy under Diego Simeone.
Barcelona are interested in bringing the 27-year-old France forward to the Camp Nou, but he refused to confirm whether or not this was his final game in Atletico's colours. 
"I don't think now is the time to talk about my future. I want to enjoy the present," Griezmann said. "I want to enjoy this with the fans. [Marseille] are an attacking team they work very well but we focused on our game, which was to defend well, be a tough team and take advantage of their mistakes.
"I left home when I was 14 years old because I wanted to win trophies, this is my second and I hope I can win more. This is a reward for all the work I have put in, the suffering. There has been joy and sadness, but I am so happy and I hope to be able to live moments like this again." 
Simeone has now won six major trophies in his seven years at Atletico, in addition to having reached two Champions League finals.
"It's more than about winning the Europa League tonight, it's about more than a trophy," Simeone said. "It represents the value of hard work, a steady hand and consistency, values to be successful in life. Keeping at it, keep working hard and it will bear fruit. This shows the value of persistence. We lost two Champions League finals, one in the last minute and one on penalties."
One player that is certain to leave the club this summer is Fernando Torres, who finally won his first trophy with his boyhood club in his final match before his contract expires. After the match Torres paraded the trophy in front of his supporters with a smile.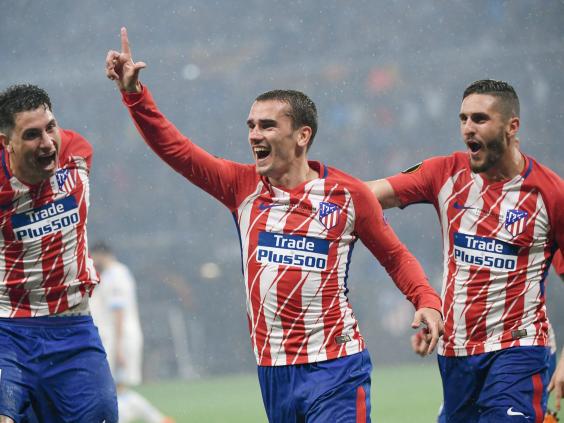 "He leaves a legacy of never surrendering, never lowering his guard," Simeone said. "He never gave up when I left him out."
In contrast, several Marseille players were in tears after the final whistle, having never got to grips with the occassion. 
"The score does not reflect the game," the Marseille head coach Rudi Garcia said. "The more experienced team won, they know how to play these matches, they play in the Champions League regularly so we should not be ashamed of losing this match.
"Losing Dimitri [to injury in the first half] was obviously a big issue for us. We lost a great player at set-pieces, if there's one part of the game where we could have been dangerous, it would have been set-pieces."
Of Atletico's first goal, which came about when the Marseille goalkeeper Steve Mandanda's bobbled pass was mis-controlled by midfielder Zambo Anguissa, Garcia added: "Griezmann took full advantage. I think the blame can be shared, it's 50-50. 
"We missed our chance in the first half. You can't fall behind against a team like Atletico. In the second half they raised their level and the best team won."
Follow the Independent Sport on Instagram here, for all of the best images, videos and stories from around the sporting world.
Reuse content