May 19, 2016
Alberto Moreno defended by Sevilla boss Unai Emery after Liverpool lose Europa League final
Alberto Moreno, widely criticised after his performance in the Europa League final, has been defended by Sevilla boss Unai Emery.
The Liverpool left-back has been picked out as the the most at fault for Liverpool's collapse in Basel, where after taking a 1-0 lead into half-time they couldn't cope with their Spanish opponents in the second period and lost 3-1.
Moreno was particularly at fault for the first goal – which Sevilla scored just 16 seconds after the restart.
Jamie Carragher was moved to tweet: "Jurgen, transfer committee, anyone sign a f****** left back." Steve McManaman, another Liverpool legend, said: "17 seconds in and just a real lack of judgement, incredibly sloppy play by Alberto Moreno – who had an awful second half."
Moreno also faired badly in the Independent's player ratings…
Liverpool player ratings vs Sevilla
1/14



Simon Mignolet: 5 out of 10

Was a virtual spectator in first half except when catching a couple of crosses, but things got much busier in the second. He could do nothing for the first goal while the second was hit with such pace and curl by Coke that Mignolet could hardly react let alone save it. The Belgian stopper might have wanted to do better on the third but was completely exposed.

This content is subject to copyright.

2/14



Nathaniel Clyne: 7 out of 10

Caused problems with his pace and delivery – at least in the first period. Was booked in the dying moments through poor frustration at what was a tougher second half. Liverpool's best player.

This content is subject to copyright.

3/14



Dejan Lovren: 5 out of 10

Unfortunate not to have been on the scoresheet after heading into the net from a corner in the first half only to see it ruled out because Sturridge was offside. Made some useful tackles.

2016 Getty Images

4/14



Kolo Toure: 6 out of 10

Superb defending to deny Gameiro a goal just as it looked as though the Sevilla striker was about to score his second of the night. The moment saw him show a flash of pace that everyone thought had deserted him. Sacrificed for Christian Benteke after 83 minutes.

2016 Getty Images

5/14



Alberto Moreno: 2 out of 10

At fault for Sevilla's opening goal and his losses of possession caused his team problems. Was regularly out of position which contributed to Liverpool's failure to deal with an inspired Sevilla side in the second period. Despite wanting to get forward he had little impact on that front.

2016 Liverpool FC

6/14



James Milner: 5 out of 10

Tried hard in the centre of the park but lack of quality occasionally let him down. Kept chasing lost causes right to the end.

2016 Liverpool FC

7/14



Emre Can: 5 out of 10

Set out his stall with a heavy challenge early on and was combative throughout the final. But in the second period Sevilla were just too good and he lost control of the midfield battle.

2016 Liverpool FC

8/14



Adam Lallana: 5 out of 10

Busy in midfield, instilling some energy in the team. But his final touch continues to be a weakness, highlighted in the first half with an unconvincing attempt at goal. He was taken off for Joe Allen on 73 minutes after failing to have any influence on the second half.

This content is subject to copyright.

9/14



Roberto Firmino: 4 out of 10

Good control early on in the match should have led to Liverpool winning a penalty with a Sevilla defender handling the ball and taking down the Brazilian. The referee wasn't interested though. Aside from that he had little impact and he came off for Divock Origi after 69 minutes.

2016 Liverpool FC

10/14



Philippe Coutinho: 5 out of 10

Got the assist for Sturridge's goal but in truth Liverpool's only goal was all about the finish rather than the final pass. Will be frustrated not to have had more influence on the match where it mattered, with just the one shot which fizzed over the bar from range. Was also inadvertently involved in Sevilla's third goal when Clyne cleared it only for the ball to ping off Coutinho's foot and into the path of Koke who then buried the ball in to the back of the net.

2016 Getty Images

11/14



Daniel Sturridge: 6 out of 10

Came close to scoring early on but his header lacked pace and allowed Sevilla to clear off the line. The Euro 2016 bound England striker made up for it soon after with a sublime opening goal struck with the outside of his left foot. Like every other Liverpool player, he had a far less convincing second half.

2016 Liverpool FC

12/14



OFF THE BENCH – Joe Allen: 4 out of 10

Offered fresh legs but little quality with too many of the few passes he attempted coming to nothing.

2016 Getty Images

13/14



OFF THE BENCH – Divock Origi: 4 out of 10

Did almost nothing except elbow a Sevilla player in the face.

Getty

14/14



OFF THE BENCH – Christian Benteke: 3 out of 10

Gave away a foul but that was about it during his 10 minutes on the pitch.

Getty
However Emery stuck up for the Spanish defender following his side's victory.
"Alberto Moreno is playing a great season for Liverpool," insisted the Sevilla coach after leading his side to a record third straight Europa League triumph.
"And what I have seen is he is playing at a level that he can go back to the Spanish national team.
"I always see the glass half-full because he has a great offensive ability and I see him as a great offensive player rather than being a poor defender."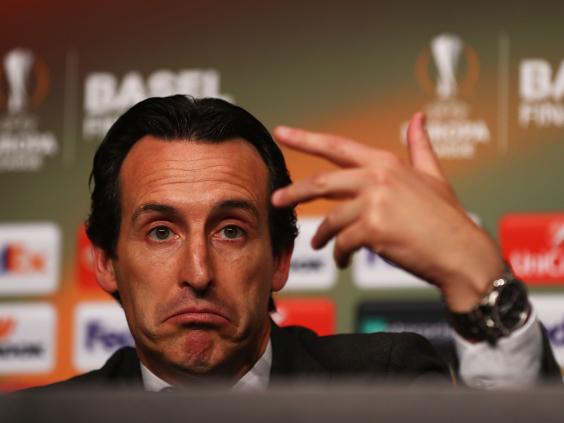 Emery may feel a sense of loyalty to Moreno having managed the player for a year at Sevilla.