May 20, 2016
Alan Pardew tells Crystal Palace's Wilfried Zaha it's not all about him
Alan Pardew has told his winger Wilfried Zaha that he needs to stop being so self-absorbed. 
The Crystal Palace manager, who hopes to sign a two-year contract extension before Saturday's FA Cup final when his side will meet Manchester United, was refreshingly to the point when discussing his winger's deficiencies on Thursday.   
"Wilf wants to train, he loves it," Pardew said. "[But] sometimes, there is a kind of strange thing, there is a part of him, which wants it to be about him. And if it isn't about him, why are we doing it?"
Zaha was so impressive in his early career that Sir Alex Ferguson signed him for £10m from Palace in 2013 when he was just 20. The Manchester United manager saw great potential but the winger failed to make the grade, playing just twice during his two years at the club during which time he was loaned to Palace and Cardiff before returning to the Eagles last summer.
"When you are not in the team, like at Man United, I think that might have been an issue for him and the manager," Pardew said. "I have tried to understand that with him and tried to educate him, that he has to do things in training that might not necessarily be around him. He has got better at that."
Pardew also questioned Zaha's ability to respond to setbacks. "He also doesn't react well to disappointment or when things go well for him in the game, he sometimes takes a while to kick back into gear. Now if you have those traits and you are not in the first team, then it might not look great.
"This is a young player who has great talent," Pardew added. "He is learning. And he is learning a lot this year. He is our Player of the Year and there is a reason for that. He has definitely got better for playing games and being in the frame of the first team.
"I know that Sir Alex still feels that he is a Man United [type of] player. He can run fast all day, as fast in the first minute as he will in the 120th, and there aren't many who can do that. He can beat players for fun, he has a great physique. He's probably an unfinished talent.
"He understands, sometimes it's difficult to put it into practice though. Sometimes he still wanders around in training a little bit and I have to kick him up the bum or throw something at him.This guy is 23, some players take longer to progress.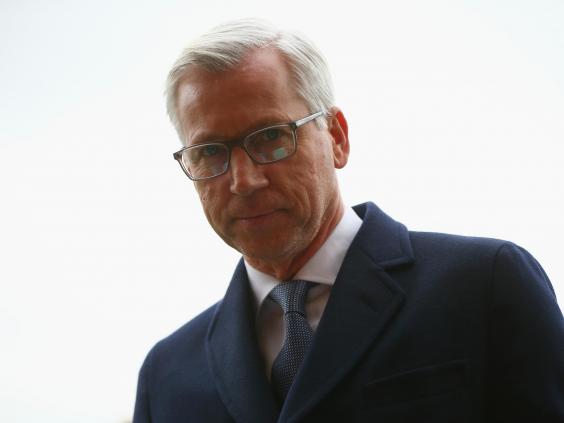 "I don't think there's a problem with Wilf now. His personality has improved around the group. That comes from us leaning on him, trying to give him information, senior players helping him, like Adebayor. I think he can have a big FA Cup final and I hope he has one not just for Palace but for him personally."
Meanwhile, Pardew hopes to sign his new deal before he leads his team out at Wembley. His current deal runs until 2018 but he is in advanced talks to extend it until 2020. 
The news adds to the positive vibes around the club as the players prepare for Saturday. "They've worked really well this week," Pardew said. "We've put all the extra work in. We're well set. One of two of these players will never play in a final again and this is an opportunity. Like the Leicester players, winning the FA Cup would mean the same for us. 
"The pressure is on them all the time. They're Man United: a historic club but this group of players have an opportunity to put something permanent there: a first major trophy for Crystal Palace Football Club."