April 19, 2016
Agbonlahor suspended by Aston Villa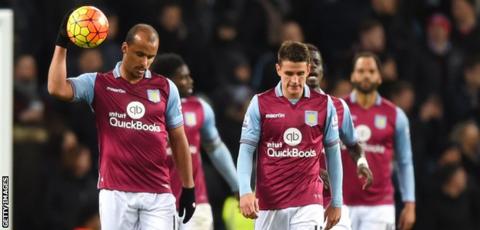 Aston Villa have suspended striker Gabriel Agbonlahor and begun an investigation after he was allegedly pictured with laughing gas canisters.
According to reports, the 29-year-old was pictured partying in London on the same night Villa were relegated.
Agbonlahor was already on the sidelines after being told he was not fit enough.
He was suspended by Villa earlier this month after he was pictured appearing to hold a shisha pipe while in Dubai, but the club took no further action.
Villa were relegated from the Premier League after losing 1-0 to Manchester United at Old Trafford on Saturday.
They are bottom of the table after collecting only 16 points from 34 games.
The West Midlands outfit are also without a manager following the exit of Frenchman Remi Garde and have been hit by two key resignations.
Former Football Association chairman David Bernstein and Lord King, a former Governor of the Bank of England, both quit the board on Monday.
Agbonlahor plight sums up season of woe
Having been on the club's books since he was a schoolboy, the club's record Premier League goalscorer, who reportedly earns £50,000 a week, has scored only one league goal this season and his form has been symptomatic of a woeful season at Villa Park.
Last season's FA Cup finalists lost two key players in the summer – striker Christian Benteke to Liverpool for £32.5m and England international Fabian Delph to Manchester City for £8m in an embarrassing episode in which the midfielder twice changed his mind about a move.
Despite winning their opening Premier League game, Villa did not add a second victory until January, by which time they had sacked manager Tim Sherwood.
His replacement, Garde, had his credentials questioned given his lack of English managerial experience and one of his first jobs was to discipline midfielder Jack Grealish for being pictured partying after a 4-0 defeat at Everton.
A brief upturn in form in January came before Garde's obvious disappointment in failing to recruit any new players in the transfer window.
And after a 6-0 home defeat by Liverpool – Villa's worst in 81 years – Garde's reign came to an end on 29 March, after less than five months in charge.
Agbonlahor fell out of love with Villa – BBC Midlands correspondent Pat Murphy
When Gabby Agbonlahor scored a vital goal against Norwich in February, his muted celebration at what could have been a turning point for his club told all about his disaffection with his lot.
The Agbonlahor of a few seasons back would have been glorying in the moment with the Holte End, at one with those he's played first-team football for over the last decade.
It's always sadder when a hometown lad falls out of love with his club and fans. Like former players Gary Shaw and Ian Taylor, it seemed as if playing for Villa meant so much in his pomp to Agbonlahor, born just a few miles away in Erdington.
But injuries have taken their toll, reducing the electric pace that was the hallmark of Agbonlahor's game, especially in the Martin O'Neill era, when he helped make Villa such a dangerous counter-attacking side.
And undoubtedly Agbonlahor hasn't looked after himself as his speed diminished.
Perhaps Gerard Houllier was wise after all to counsel Agbonlahor against bulking up too much in the gym, advice that the player resented.
It's bewildering to observe Agbonlahor's seemingly wilful disregard for his late career prospects. He appeared genuinely thrilled and proud to be made club captain last summer. And before everyone dumps too readily on him, don't forget his unheralded work for Villa's official charity, Acorns Hospice.
No Villa player has put in more hours on that project in his time at the club, always willing to try to cheer up desperately ill kids.
Yet now he's public enemy number one in the eyes of the Villa faithful and it's hard to argue with that. He now seems simply not to care what the fans think of him.
He surely won't play again for the first team this season. With two years left on his contract, a deal brokered by the Professional Footballers' Association to get him away would appear the best outcome, which is a great shame.
When you see how the likes of Brian Little, Paul McGrath, Gordon Cowans, Gary Shaw and Tony Morley are venerated on matchdays at Villa Park, it's sad that Villa's record Premier League goalscorer won't ever be in that admired company.